The n-process in Core-Collapse Supernovae featuring Marco Pignatari (Konkoly Observatory)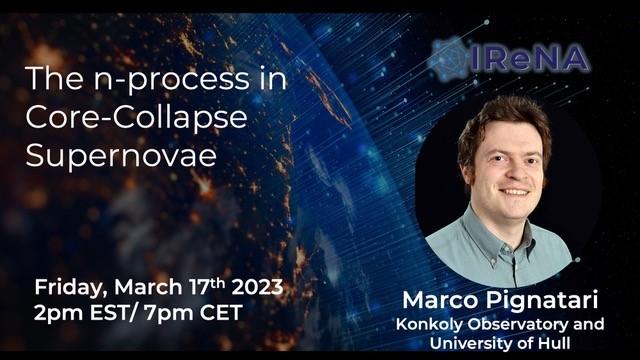 The n-process is a neutron-capture process activated in Core-Collapse Supernovae (CCSNe), when the Supernova shock is passing through the deepest He-rich layers of the massive star progenitor. The peak neutron density generated is typically larger than 1018 neutrons cm-3, and the dominant neutron source is the Ne22(alpha,n)Mg25 reaction where the Ne22 available was left in the ashes of the hydrostatic convective He shell. The isotopic signature of the n-process is measured for different heavy elements in carbon-rich presolar grains from CCSNe, providing a powerful diagnostic for the nucleosynthesis before and during the explosion in these external parts of the CCSN ejecta.
In this seminar, I will review the main nuclear astrophysics properties of the n-process, what we know and what we can learn about the parent stars of the grains measured. Even if the amount of single presolar grains from CCSNe with the isotopic pattern of heavy elements measured is still quite limited, they are already providing a crucial benchmark for theoretical stellar models.