The IReNA Online Seminar Organizing Committee hosts a series of specialized seminars on research topics of current interest for the network. They are open to all interested scientists. The talks will be held on selected Fridays at 2pm US Eastern Time (although occasional changes could occur to accommodate speakers in remote time zones). 
Grad students and postdocs are encouraged to join us in Gather Town one hour prior to the seminar for a prep discussion led by an expert in the topic. Details can be found within each specific date below. If you want to receive notifications for future online seminars, contact us to have you added to our Online Seminar mailing list.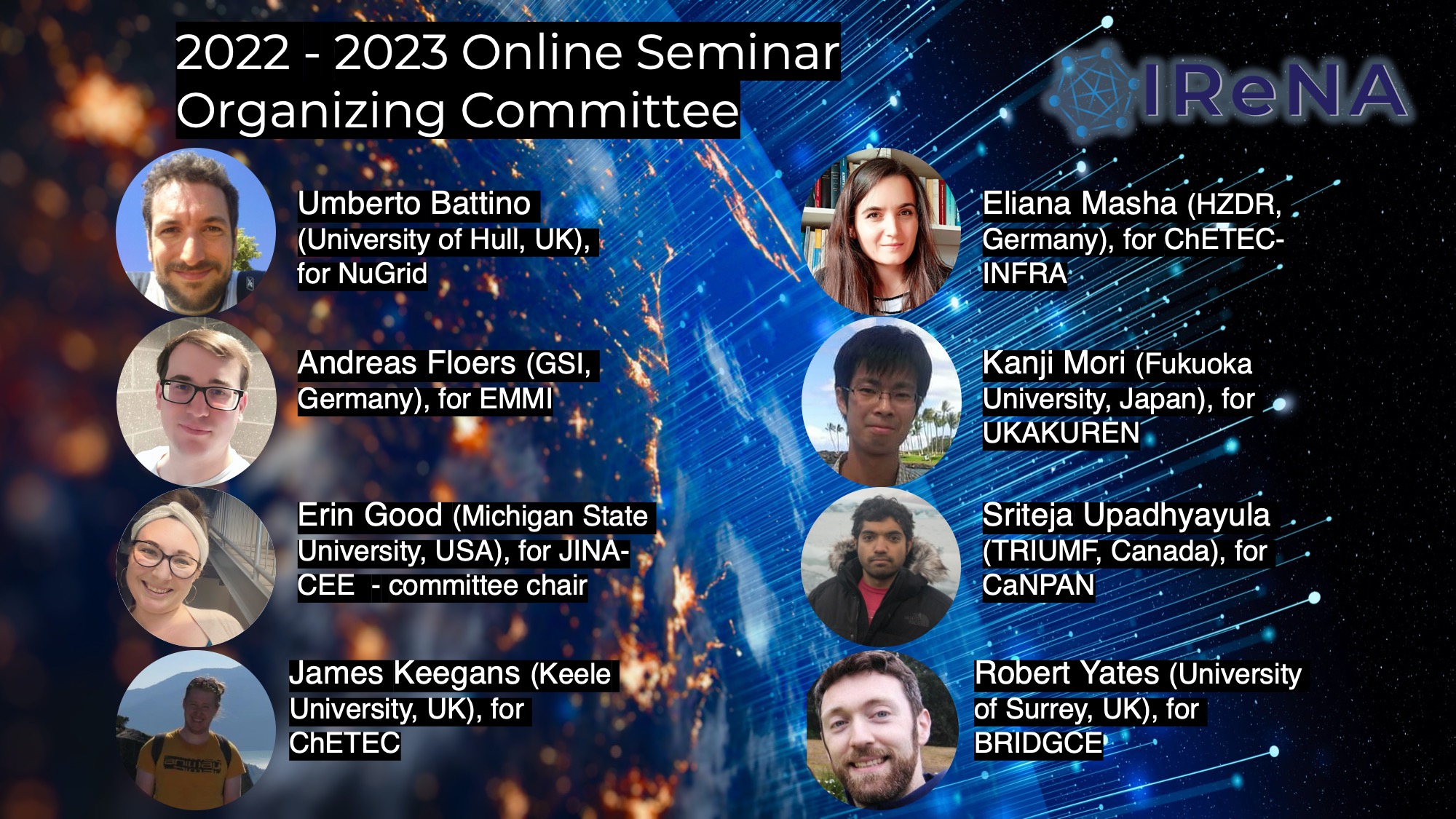 Seminars are recorded and can be viewed on our YouTube channel.
Former hosts of the online seminar: 
Athanasios Psaltis (TU Darmstadt): NuGrid - Chair
Chiranjib Mondal (LPC, Caen): ChETEC
Mohammad Mardini (IPMU, Tokyo): SFB881
Seiya Hayakawa (CNS, Tokyo): UKAKUREN
Tyler Gorda (TU Darmstadt): EMMI
Panagiotis Gastis (LANL)
MacKenzie Warren (NCSU)
Mohammad Safarzadeh (UC Santa Cruz)
Ingo Tews (LANL)
To join the online seminar:
We will use Zoom for the web seminar. To access the online seminar, please register and download the Zoom software under https://www.zoom.us. Contact jinacee@msu.edu for meeting information. For security purposes we will collect your institutional affiliation and position.