The IReNA Online Seminar Organizing Committee hosts a biweekly series of specialized seminars on research topics of current interest for the network. They are open to all interested scientists. 
If you want to receive notifications for future online seminars, contact us

 at jinacee@msu.edu 

to have you added to our Online Seminar mailing list.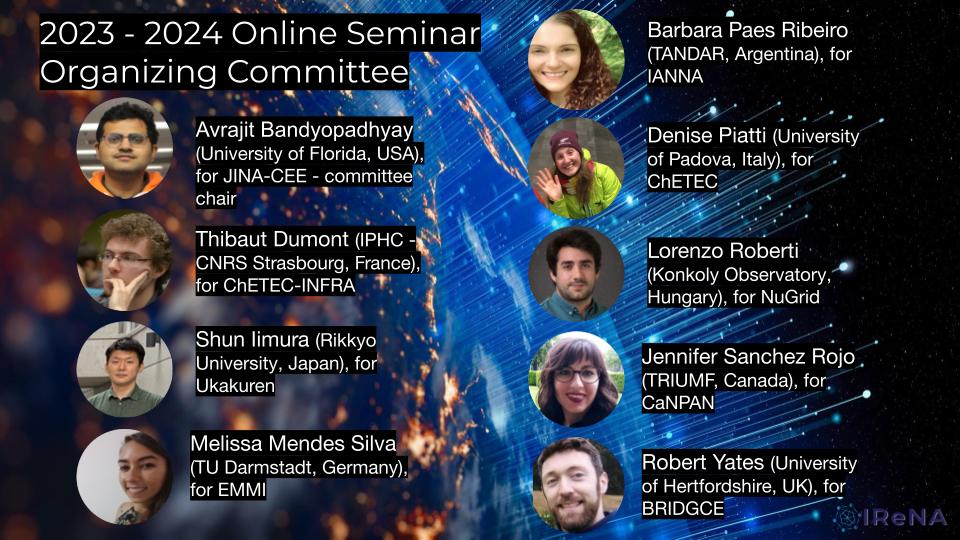 Seminars are recorded and can be viewed on our YouTube channel.
Former hosts of the online seminar: 
Umberto Battino (University of Hull, UK): NuGrid
Andreas Floers (GSI, Germany): EMMI
Erin Good (Michigan State University, USA): JINA-CEE - Chair
James Keegans (Keele University, UK): ChETEC
Eliana Masha (HZDR, Germany): ChETEC-INFRA
Kanji Mori (Fukuoka University, Japan): Ukakuren
Sriteja Upadhyayula (TRIUMF, Canada): CaNPAN
Robert Yates (University of Hertfordshire, UK): BRIDGCE