Conference for Undergraduate Women in Physics 2019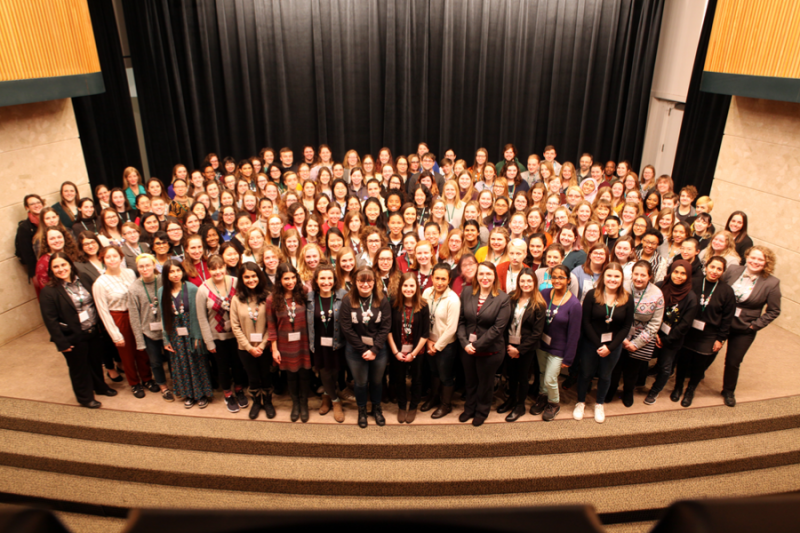 Contributed by Artemis Spyrou (Michigan State University)
Michigan State University (MSU) organized one of the 2019 Conferences for Undergraduate Women in Physics (CUWiP). The conference was organized on the MSU campus on January 18-20. 158 undergraduate students, primarily women from Michigan, Indiana, Illinois, Kentucky, and Western Pennsylvania, participated in the conference. The students had the opportunity to participate in several professional development workshops including "writing a resume/CV", "Networking", and "Improving Mental Health and Wellbeing." CUWiP hosted 2 plenary speakers - Erica Snider from Femi Lab, and Njema Frazier from the NNSA, and also joined the national CUWiP keynote from Dr. Fabiola Gianotti from CERN.
Two MSU graduate students, Jessie Micallef & Claire Kopenhafer, were the co-chairs of the successful conference, with immense support from 50 student/postdoc volunteers. Alongside the volunteers, a group of 44 speakers/workshop leaders, as well as 13 expo table representatives, also contributed to the success of the conference.
CUWiP was sponsored by MSU partners, including the Department of Physics and Astronomy, and the NSCL and FRIB facilities, as well as by individual and community contributions. JINA-CEE provided funds to support the participation of 9 students.