Girl Scout Badge: Get to Know Nuclear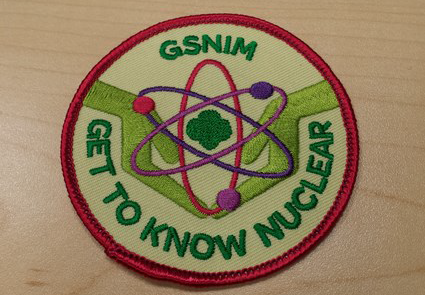 JINA-CEE and ISNAP have partnered with the Girl Scouts of Northern Indiana Michiana to create a "Get to Know Nuclear Badge" for regional girl scouts in grades 6-12. Scouts can earn the badge by participating in a weekend workshop that introduces nuclear science with lectures, activities, a tour of NSL, and conversations with local nuclear scientists over a duration of 4-5 hours.
The workshop is based on a program JINA-CEE developed to help Boy Scouts earn their Nuclear Science Badge and covers much of the same material over the same duration. It was altered for Girl Scouts to include more applications of nuclear science given research that suggests females are more likely to be interested in fields and careers with direct benefits to society. The GS badge workshop was developed after two successful BSA workshops. We have held two workshops to date with more already scheduled.
One of the high school students who attended applied for and was accepted to attend our more intensive summer PAN Program to learn more about nuclear science. There are also plans to duplicate the badge at other JINA-CEE institutions.
Contact Information: JINA Outreach, University of Notre Dame, (574) 631-5326, jinaout@nd.edu
Download PDF Document: Girl Scout Badge: Get to Know Nuclear