NASA's Trudy Kortes delivers talk on leadership in STEM at MSU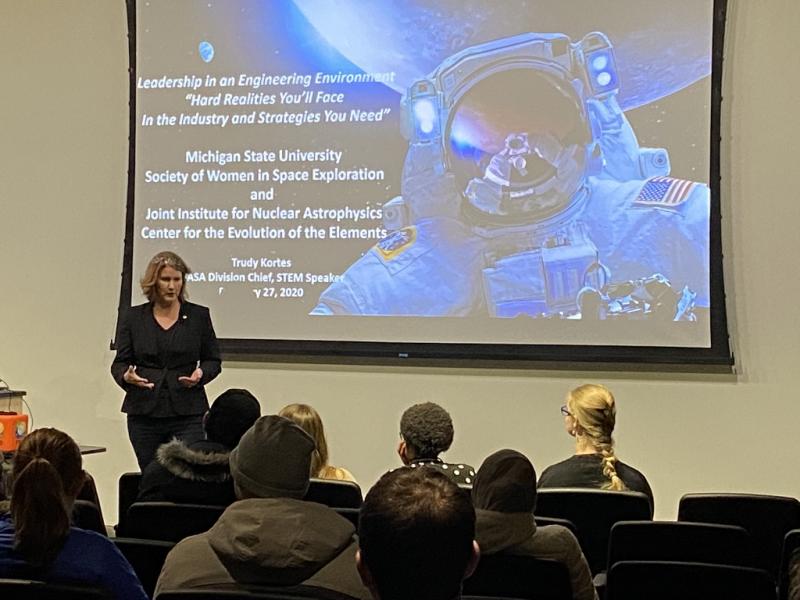 As part of our efforts to support our student's professional development, JINA-CEE supported an initiative by the Michigan State University Society of Women in Space Exploration (SWISE), a club of undergraduate students at MSU, to invite NASA's Chief of Human Exploration and Space Explorations Division, Trudy Kortes, to MSU.  On February 27th, after a tour around the FRIB laboratory, Trudy delivered a delightful lecture on proven strategies for leadership in an engineering environment. 
During her lifelong career at NASA, Trudy has worked on a variety of programs including the Orion crew module, designed to carry explorers on new missions to Mars, Glenn's Radioisotope Power Systems Program Office, investigating nuclear power technologies to enable future space exploration missions; and the Cryogenic Propellant Storage & Transfer project. She earned her bachelor's degree in aeronautical engineering from the University of Michigan, and a masters degree in environmental engineering from the University of Houston.  A talented communicator, Trudy was the winner of the 2017 NASA Headquarters talent show for stand-up comedy.
Molly Janasik, president of the SWISE chapter at MSU, met Trudy while attending University of Michigan's Women in Aerospace Conference, where she was a keynote speaker, and invited her to visit MSU.
Trudy said of her visit: "the tour of their impressive Facility for Rare Isotope Beams, their attentiveness and enthusiasm for my 'Leadership in an Engineering Environment' lecture, and excellent discussions with students went beyond my expectations. College students are craving this type of knowledge, advice, and guidance that goes beyond traditional academics. I'm a lifetime Wolverine, but their warm reception made me feel like a Spartan for a day! "
 Student testimonials:
"She was so inspiring and motivating and even funny too during her talk, and I chatted with her afterwards about advice to work at NASA someday among other things [...]. Her talk at MSU was keyed on essential leadership skills and advice to be successful in our careers, no matter our field. Her words resonated with me immensely." -Molly Janasik. Major: Physics.
"She spoke of leadership and teamwork in the professional world in a way that made me more excited to start my career as a woman in STEM." - Katelynn Ehlert. Majors: Astrophysics and music. 
"It was a great experience to have a strong woman leader talking to us about the issues women face in a male-dominated field. The talk was also very insightful on current issues to overcome in order to make science more inclusive and attract people of all backgrounds, races and genders."  - Ashley Francis. Major: Astrophysics.