Science Alive and Countdown Events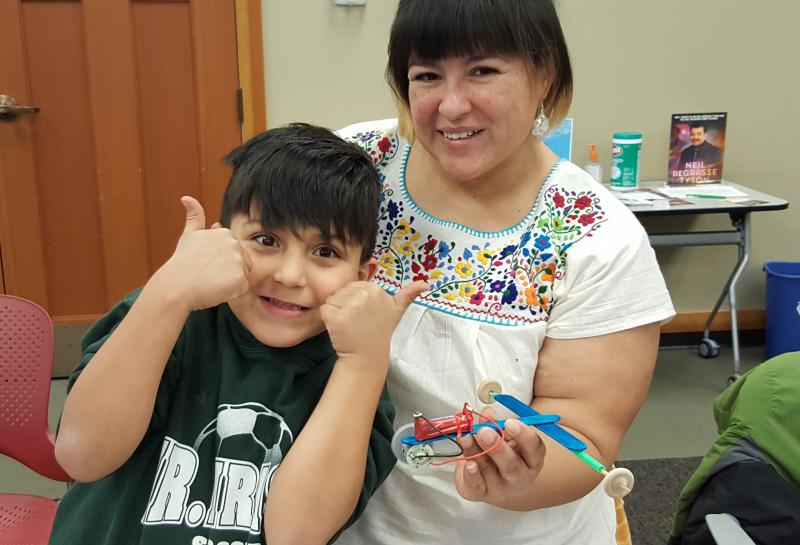 JINA-CEE regularly participates in the St. Joseph County Public Library's annual Science Alive as well as their "Countdown" events leading up to the big day. In 2017, JINA-CEE led 3 of 10 Countdown events, for 30 students each, at different branches using activities from our Art 2 Science Camp. On February 4, over 40 exhibits filled the downtown branch, as the main library was turned into a science festival for the 25th year in a row. Over 3000 people attended this year, mostly families with young children. Some of the parents now recall attending when they were a child and enjoy sharing the experience with their own children.
The day includes a "passport" for children who attend 8 exhibits and JINA-CEE sponsors a free week at Art 2 Science Camp as one of the top prizes.
JINA-CEE has an entire room on the third floor where we interact with children, parents, and educators through activities including: liquid nitrogen demos, radiation activities, magnetic electronics, a Ruben's tube "played" with electric instruments, and a new wooden model of ion trapping.
The room was primarily staffed by physics graduate students from the outreach group ExPAND (Experiments in Physics & Astronomy at ND) but also included JINA-CEE faculty at ND.
The JINA-CEE room had the highest attendance of any activity room and is routinely showcased in the local newspaper and event highlight video.
Contact Information: JINA-CEE Outreach, University of Notre Dame, (574) 631-5326, jinaout@nd.edu Web Site: www.JINAweb.org
Download PDF Document: Science Alive and Countdown Events